Filter Products

By Price

BrandBrands
£
2
.
2
7
Today's Best Lead Prices
per Kg ex vat
For Bulk Orders Call 01752 692 760
1 - 249kg£2.43kg
250 - 499kg£2.41kg
500 - 999kg£2.38kg
1000kg+£2.27kg
2.5kg Cans
At Roofing Superstore our choice of flat roof materials includes everything you need to create a long-lasting, weather proof flat roof that performs and looks good too. Including fibreglass roof kits, torch-on felt, and liquid rubber products, everything you need for flat roofing is in one place. Whether you're repairing a flat roof or laying a new one from scratch, you'll find all the materials you need here. Looking for pitched roof materials? You'll find pitched roofing products here
Acrypol is well known as one of the most reliable waterproofing product manufacturers in the world. With a product suited to waterproof every roof substrate, Acrypol guarantees long-lasting results with a high quality finish that prevents leaks and slips. The cold applied liquid products that Acrypol offer are inexpensive to purchase and easy to use. You can brush Acrypol onto rusting, aging metal to give it a new lease of life or you can use the product to coat flat roofs for a layer of waterproof protection.
Below you'll find bumper 2.5kg cans of Acrypol at cost-effective Roofing Superstore prices. Click the links to order your 2.5kg cans of Acrypol. Want some advice or need to check something? Call our knowledgeable team on 01752 692760 and they'll have all the information you need.
...Read more
Products in 2.5kg Cans:
Showing 1-1 of 1 products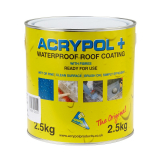 Acrypol Plus Grey Waterproof Coating - 2.5kg
from £25.75 ex vat
More
Buy
Showing 1-1 of 1 products
Page 1 of 1