Filter Products

By Price

BrandBrands
£
2
.
2
6
Today's Best Lead Prices
per Kg ex vat
For Bulk Orders Call 01752 692 760
1 - 249kg£2.42kg
250 - 499kg£2.40kg
500 - 999kg£2.37kg
1000kg+£2.26kg
Adhesives And Sealants
At Roofing Superstore our choice of flat roof materials includes everything you need to create a long-lasting, weather proof flat roof that performs and looks good too. Including fibreglass roof kits, torch-on felt, and liquid rubber products, everything you need for flat roofing is in one place. Whether you're repairing a flat roof or laying a new one from scratch, you'll find all the materials you need here. Looking for pitched roof materials? You'll find pitched roofing products here
Fibreglass roofing
Fibreglass roofing is a firm favourite amongst flat roofing professionals thanks to its long life span and its finish, which is both glossy and waterproof. When purchasing fibreglass roofing products you can select from top brands like Cromar and a range of our own-brand products to reduce your costs even further. Reliable tools, strong adhesives and sealants, resins, topcoats and fibreglass fabrics are all available for ensure your fibreglass roofing materials can be purchased all in one place.
Cromar GRP fibreglass acetone product is unbeatable when it comes to providing a thorough clean. Click through below to order this excellent product at our competitive prices. If you aren't sure which product is right for your project, give our customer service team a call on 01752 692760 and they'll gladly talk you through it.
...Read more
Products in Adhesives And Sealants:
Showing 1-1 of 1 products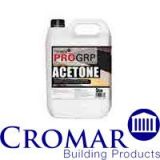 Cromar GRP Fibreglass Acetone Cleaner - 5 Litres
from £17.06 ex vat
More
Buy
Showing 1-1 of 1 products
Page 1 of 1