Filter Products

By Price

BrandBrands
£
2
.
4
6
Today's Best Lead Prices
per Kg ex vat
For Bulk Orders Call 01752 692 760
1 - 249kg£2.63kg
250 - 499kg£2.61kg
500 - 999kg£2.57kg
1000kg+£2.46kg
EPDM Easy Weld Membrane
At Roofing Superstore our choice of flat roof materials includes everything you need to create a long-lasting, weather proof flat roof that performs and looks good too. Including fibreglass roof kits, torch-on felt, and liquid rubber products, everything you need for flat roofing is in one place. Whether you're repairing a flat roof or laying a new one from scratch, you'll find all the materials you need here. Looking for pitched roof materials? You'll find pitched roofing products here
Hertalan has been manufacturing EPDM rubber membranes since the 1960s and now has more than 50 years of experience supplying top quality rubber products. When buying Hertalan EPDM rubber roofing you know you can trust the products you're receiving to perform for a long time and to look good too.
Hertalan's excellent Easy Weld EPDM rubber roofing is unbeatable when it comes to quality and affordability. Browse the links below to order your products, all brought to you at Roofing Superstore's fantastic prices. If you aren't sure which product is right for your project, give our customer service team a call on 01752 692760 and they'll gladly talk you through it.
...Read more
Products in EPDM Easy Weld Membrane:
Showing 1-1 of 1 products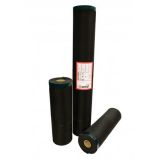 Hertalan EPDM Rubber Roofing 1.3mm UV Easy Weld Mech Fix - 20m x 700mm
from £150.00 ex vat
More
Buy
Showing 1-1 of 1 products
Page 1 of 1