Filter Products

By Price
£
2
.
2
7
Today's Best Lead Prices
per Kg ex vat
For Bulk Orders Call 01752 692 760
1 - 249kg£2.43kg
250 - 499kg£2.41kg
500 - 999kg£2.38kg
1000kg+£2.27kg
Coldseal Self-Adhesive Roof Felt
At Roofing Superstore our choice of flat roof materials includes everything you need to create a long-lasting, weather proof flat roof that performs and looks good too. Including fibreglass roof kits, torch-on felt, and liquid rubber products, everything you need for flat roofing is in one place. Whether you're repairing a flat roof or laying a new one from scratch, you'll find all the materials you need here. Looking for pitched roof materials? You'll find pitched roofing products here
Self-adhesive roofing felt
Self-adhesive roofing felt allows you to install a reliable roof without the need for naked flames and torch-on applications which can be dangerous. A simple release film on the bottom of the roofing felt can be peeled off to allow the system to self-bond to the substrate. Suitable for roofing domestic flat roofs, self-adhesive roofing felt is perfect for garages, extensions, porches, and more. Thanks to its self-adhesive quality it's extremely easy to fit leaving you with a tough and durable roof substrate.
IKO's tried-and-tested Coldseal self-adhesive roofing products are relied upon across the industry for supreme durability. These bituminous systems are so easy to use, and require no flames. Order yours today. Do you need to talk about your project before placing your order? Feel free to call our friendly team on 01752 692760, they'll happily help.
...Read more
Products in Self-Adhesive Roof Felt:
Showing 1-2 of 2 products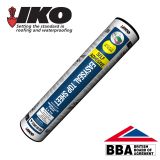 IKO Easyseal / Coldseal Self-Adhesive Top Sheet Roofing Felt - 6m x 1m
from £52.59 ex vat
More
Buy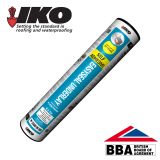 IKO Easyseal / Coldseal Self-Adhesive Roofing Felt Underlay - 8m x 1m
from £53.95 ex vat
More
Buy
Showing 1-2 of 2 products
Page 1 of 1