Filter Products

By Price

BrandBrands
£
2
.
2
7
Today's Best Lead Prices
per Kg ex vat
For Bulk Orders Call 01752 692 760
1 - 249kg£2.43kg
250 - 499kg£2.41kg
500 - 999kg£2.38kg
1000kg+£2.27kg
Corovent Roll Out Ridges
Corovent is an excellent product for speedy installation and a durable finish.
At Roofing Superstore, we're proud to stock this great universal dry fix system in rolls of 6m.
Looking for something specific? If you can't find it here, give our friendly customer services team a call on 01752 692760 and they'll be glad to help you.
...Read more
Products in Corovent Roll Out Ridges:
Showing 1-1 of 1 products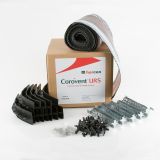 Corovent Universal Dry Fix Ridge System (6m Pack) Black
from £38.65 ex vat
More
Buy
Showing 1-1 of 1 products
Page 1 of 1