Diamond Roof Slate
Choose classic Jutland Diamond slate tiles for a retro-style, durable finish to your roofing project.
We're proud to stock this superb product in autumn brown, blue/black and russet, as well as copper nails, slate carriers and roofer's seats.
Do you need to talk about your project before placing your order? Feel free to call our friendly team on 01752 692760, they'll happily help.
Products in Diamond Slates:
Showing 1-3 of 3 products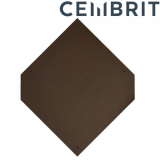 Showing 1-3 of 3 products