Filter Products

By Price

BrandBrands
£
2
.
4
6
Today's Best Lead Prices
per Kg ex vat
For Bulk Orders Call 01752 692 760
1 - 249kg£2.63kg
250 - 499kg£2.61kg
500 - 999kg£2.57kg
1000kg+£2.46kg
Harcon
Harcon's high-quality Corodrain continuous GRP abutment soaker offers fantastic value for money.
Click the link below to find out more about this leading product, and get your order in for swift delivery.
Do you need to talk about your project before placing your order? Feel free to call our friendly team on 01752 692760, they'll happily help.
...Read more
Products in Harcon:
Showing 1-1 of 1 products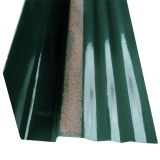 Corodrain Continuous GRP Abutment Soaker - 180mm x 3000mm
from £8.95 ex vat
More
Buy
Showing 1-1 of 1 products
Page 1 of 1