Filter Products

By Price

BrandBrands
£
2
.
2
7
Today's Best Lead Prices
per Kg ex vat
For Bulk Orders Call 01752 692 760
1 - 249kg£2.43kg
250 - 499kg£2.41kg
500 - 999kg£2.38kg
1000kg+£2.27kg
Redland
Redland's popular and universal Uni-Vent rapid roll-out vented ridge and hip system is available from Roofing Superstore in lengths of 10m.
This flexible solution is compatible with a whole host of ridge and hip tiles so that you can quickly and easily achieve a weathertight seal without the need for mortar.
If you need some assistance before placing your order, give our friendly customer service team a call on 01752 692760. They will be happy to help.
...Read more
Products in Redland:
Showing 1-1 of 1 products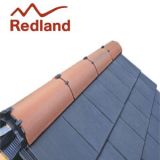 Redland Uni-Vent Rapid Roll Out Vented Ridge / Hip System - 10m Pack
from £79.90 ex vat
More
Buy
Showing 1-1 of 1 products
Page 1 of 1