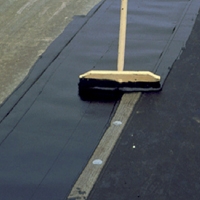 SWEPCO Adhesive #9 - 19 Litres
Additional Information
Product code:
SWEPCO/A9
Brand:

Swepco
Estimated delivery:
3-5 Days
£149.34 inc vat £124.45 ex vat
1+

£149.34
inc vat £124.45
ex vat
A unique cold-applied roofing glue made with Asphalt, a high performance plasticizing adhesive resin and other special SWEPCO ingredients. Safe and easy to install, it provides a super strong bond between non-nailable roof decks and successive layers of asphalt roof membranes. Unlike rigid bonding materials such as hot asphalt, Adhesive #9 gives a flexible yet stable bond which helps keep the membrane from cracking, splitting and tearing under normal roof expansion.
Coverage
Recommended minimum coverage rates vary from approximately 1.22 litres per m2 depending on the type of surface and type of system being installed. Please also take into consideration overlaps when working out the total area.
Application
Apply straight from the container with standard roofing brushes, squeegees or airless spray equipment. No heating or thinning is required, the roof should be sound, clean & dry. All loose gravel, dust, dirt and debris must be cleaned from the roof.
Product Enquiry Form
---
SWEPCO Adhesive #9 - 19 Litres
Price Match Enquiry

---
SWEPCO Adhesive #9 - 19 Litres
We will beat any current genuine advertised price on this product. Please fill in the form below with a link to the product on the site you have found it cheaper on, or provide photographic evidence and one of our sales team will contact you regarding your order.
Please Note:
Product must be identical
Price match must include delivery charges made by the competitor
A price match claim made after an order has been made for a product will not apply
Price match applies to UK deliveries only
Price match excludes items sold on auction sites or by private sellers