Fibre cement sheets are popular due to their comprehensive range of uses, from agricultural and industrial use to domestic and commercial uses, but how are they installed? Here at Roofing Superstore, we have a wide range of fibre cement roof sheets available at our famously competitive prices, from well-known and reputable brands such as Eternit and SVK.
Fibre cement roofing sheets are quick and easy to install and come in large sizes in order to speed up the installation process further. We've put together a quick guide to the fitting of fibre cement roof sheets to help demonstrate the process.

Laying guide
When fitting fibre cement roof sheets, there is a certain way in which they should be laid to minimise any damage or breakages over time. Fibre cement sheets should always be laid from the eaves to the ridge in columns, and if working on a duo-pitched roof, lay the adjacent column on the opposite side of the roof before moving sideways to the next column.
Sheets should always be laid with the side lap corresponding to the prevailing wind direction to prevent any uplift.
---
Mitring
When fitting fibre cement roof sheets, some corners of roof sheets must be mitred. Mitring roofing sheets involves the cutting of opposite corners of roof sheets to prevent four overlaps of roof sheets from occurring. To do this, use a hand or power saw to cut a clean and straight line.
Each sheet should have two mitres, apart from roof sheets on the perimeter of the roof. The only other exceptions are the first and last sheets – these will remain unmitred.
Please note that mitring should occur on the ground, never on the roof or scaffolding.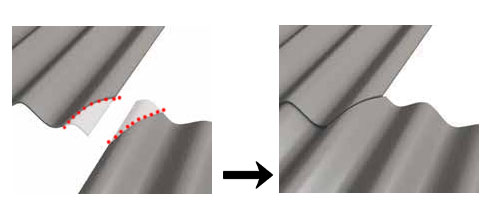 ---
Pre-Drilling
Before fixing the fibre cement sheets to the building, it is important to pre-drill the fixing holes in the purlins (horizontal bars on the roof which attach the fibre cement sheets to). Alternatively, use self-drilling or self-tapping top fix fixings.
Each fibre cement sheet should be fixed twice at each purlin. To do so, drill a hole 2mm larger than the fixings at the apex of the profile, never in the valley. Additionally, always use a drill, and never hammer through the fibre cement sheet – this could invalidate the manufacturer's guarantee, as fibre cement sheets may shatter under the impact.
Once the hole has been pre-drilled, insert the fixing, including the sealing washer. When this has been done, ensure the sealing washer has been tightened correctly to prevent the ingress of water.
It is important to ensure that fixings are never put through two layers of roofing sheet, as this will prevent the possibility of thermal movement, which can result in cracking or splitting of roof sheets.

---
Overlap Sealing

On low-pitched roofs, it is important to seal the overlaps with butyl strips. These will prevent the ingress of wind-driven precipitation, as well as prevent wind uplift. Additionally, on roofs with pitches of 5 degrees, double lap sealing can be necessary. In this case, the second butyl strip should be around 100-200mm below the fixing. This is only for some specific products, such as the Cembrit B5 or Eternit Profile 6. Other profiles are for 10-degree pitch, but make sure to check with the manufacturer.
---
Safety Advice
Fibre cement roof sheets are generally quite fragile. For this reason, it is important to always use crawling boards or walkways and roof ladders. Additionally, it is crucial to always use safety netting and drop harnesses, and ensure that no one is working below the roof whilst fitting the fibre cement sheets to the roof.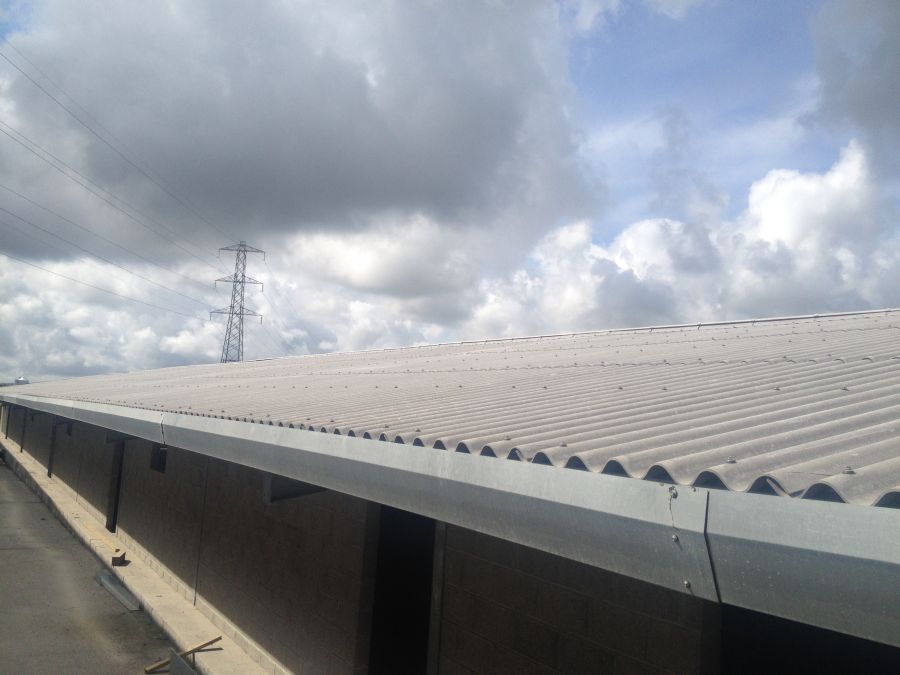 Always clear loose material as the roof sheeting process progresses, and don't stack sheets on the roof.
If working in wet or windy weather, or after poor weather, roofing sheets can be slippery, making handling difficult. Take extra care in these weather conditions, or if working with painted sheets.
When fitting fibre cement roof sheets, never wear loose clothing or Wellington boots, in case they catch on the sheets.
As with all products, we would always recommend following the manufacturer's installation guide to ensure optimum installation and prevent any warranties or guarantees from being invalid.
---
If you want to know more about fibre cement roofing sheets or the installation process, feel free to call our team on 01752 692 760 or use the live chat and they will be more than happy to help offer guidance and advice.
Was this guide useful?
Let us know if you liked the post. That's the only way we can improve.
Thanks for rating this article.
Mentioned in this project guide: