Loft ladders provide easy access to the roof space of your property. It's important to consider safety, size and quality when it comes to choosing the right type for your home, but once installed a loft ladder makes additional storage space much more usable.
---
Table of contents
---
Types of loft ladder
As every attic space is different, there are many options when it comes to choosing a loft ladder. If you're taking the DIY approach then sliding loft ladders are easy to fit. However, if you're tight on space you'll find a telescopic ladder is a better solution.
When it comes to choosing the right type for your home, you must consider how much usage the ladder will get and how easy it is to operate.
Sliding section loft ladders
Sliding section loft ladders are simple to install and budget-friendly. This makes them a great choice for DIY projects.
They can be bulkier than other options as they usually come in two or three sections. Having said that, they are lightweight due to their aluminium composition.
Sliding section ladders are really only designed for minimal usage. But are ideal if you're looking for an easy way to access loft storage.
Telescopic loft ladders
If you're working with space restrictions, a telescopic ladder is a perfect solution. They have a unique design that takes up only a small amount of space when stowed. The ladder itself operates with the simple touch of a button. The result is a sturdy ladder that is safe for frequent use.
For example, if you need regular access to work documents or files that stored away in the loft, this is perfect.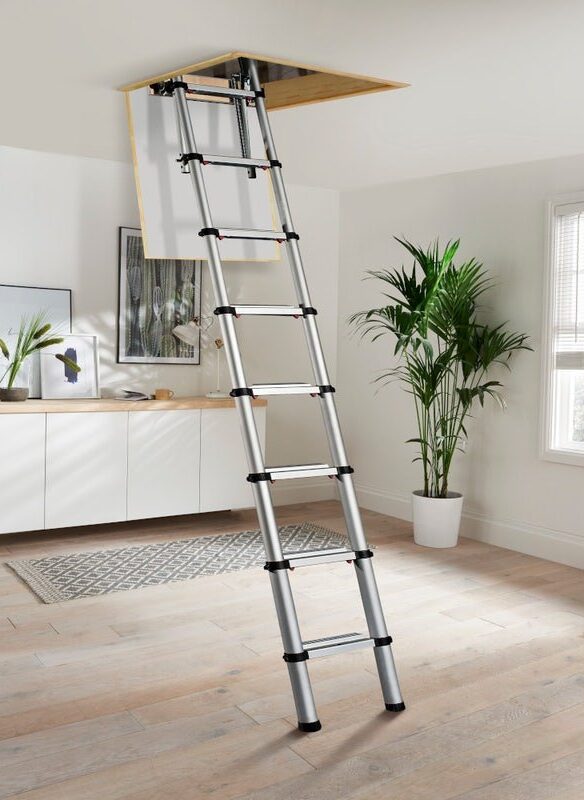 Scissor/concertina loft ladders
Concertina ladders provide an option for lofts with small hatches or obstructions nearby. The ladder itself sits directly above the loft door when stowed. When you need loft access,
the ladder pulls down to form steps to enable this.
This type of loft ladder is always made of metal and can feel flimsier than sliding or telescopic ladders. Heavy-duty concertina ladders feel safer and are of much better quality than their budget counterparts. This price reflects this.
---
How to choose the right loft ladder for your space?
From the size of your loft opening to how frequently you'll need access to your attic space, there are many factors that will determine the type of ladder you purchase.
Space
The amount of space available often indicates which type of loft ladder will be best suited to your project. Sliding section ladders are a popular choice, but you'll need to ensure there's enough clearance for one to operate smoothly. A space-saving alternative may be required if there are restrictions in the loft hatch vicinity.
Integrated vs non-integrated
Integrated ladders come attached to a hatch that is supplied by the manufacturer, making them quick and easy to install. A non-integrated ladder will need to be attached to a separate hatch, which means the installation process can be longer.
Frequency of use
If you need frequent access to your loft space, it's worth opting for a ladder that feels sturdy and safe. Telescopic loft ladders offer firm steps to climb up, and are a good choice if you lack confidence in climbing up and down ladders.
Maximum load
It's important that any ladder installed can support both your weight and the weight of objects being carried into the loft. As a guide, the maximum weight load for loft ladders is typically 100–175kg.
Safety features
There are a number of features that can be added to loft ladders to optimise their safety. Non-slip treads and handrails increase user stability while adding rubber feet to the ladder will stop it from slipping on hard flooring. If you think you might struggle to operate a ladder opt for a spring-assisted version, which is easier to lower and stow away.
Choosing a loft hatch
While the main aim is to install a loft ladder that works for you, it's important to consider what type of loft hatch you need too. There are a variety of loft hatches on the market and the main points to think about are the size of the opening required, whether it needs to be insulated and if you'd like the hatch to be lockable.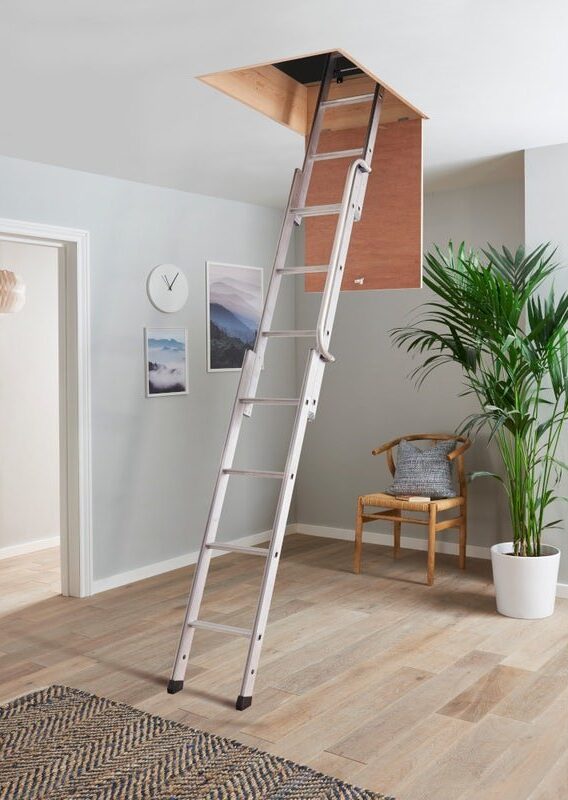 ---
How to measure for a loft ladder
When measuring to fit a loft ladder, the first step is to measure the inside dimensions of the loft hatch opening. You should take these measurements at the narrowest points.
Next, it's time to work out the vertical clearance inside the loft. Measure from the side you'd like the ladder to be hinged vertically towards the roof. Ensure you've measured from the top side of the hatch to the roof itself. To find the horizontal clearance inside the loft, measure horizontally from the side you want to apply the hinge to the closest obstruction (measuring across the loft floor or boards). Record the measurement.
It's now time to record floor and ceiling height. Measure from the floor, where the foot of the ladder will land when in use, vertically up to the loft hatch. Then repeat this but in reverse, measuring from the loft hatch down to the floor where the ladder will sit. You should find a slight discrepancy between the two.
Finally, you need to measure the floor clearance. Measure from the side you want the hinge fitted horizontally along the floor to the nearest obstruction. To allow for swing clearance, measure from the hinge end of the ladder horizontally along the floor to the nearest obstruction.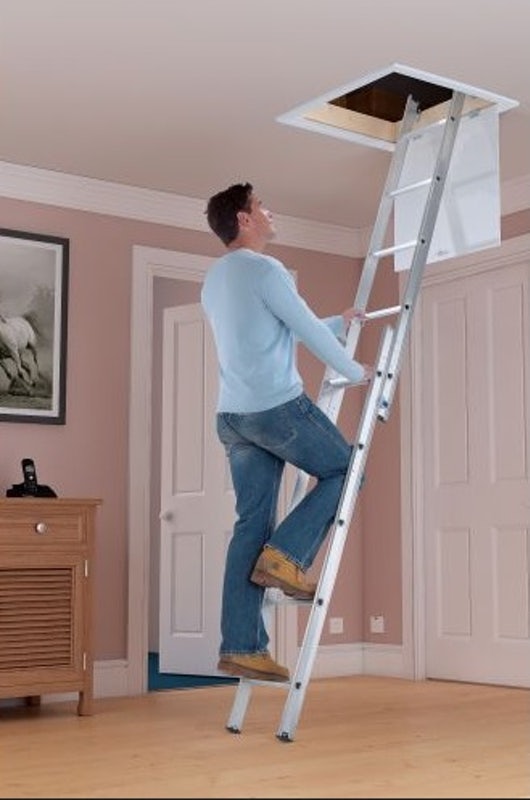 Was this guide useful?
Let us know if you liked the post. That's the only way we can improve.
Thanks for rating this article.
Mentioned in this project guide: