Lead roofing jobs can be expensive to install and costly to maintain. The value of scrap lead has slowly been increasing which is resulting in more theft of lead flashing and lead slates from domestic and commercial buildings across the UK.
Churches are very much at risk as traditional roofing uses lead for the roof as well as the gutters and some pipework too. Churches could use lead alternatives to keep the traditional appearance but for a fraction of the cost and with no worries over theft.
Alternatives to lead flashing can be used for roofing, pipework and other similar applications in domestic properties too. When installing a rooflight for example you could use a lead alternative for a low-cost and quick-to-install option.
---
Table of contents:
---
What is an alternative to lead flashing?
Lead alternatives are just as their name suggests. They're rolls of products that are an alternative to lead flashing which can be used to reduce cost, labour time and the requirement of a specialist lead worker. Whilst lead is a classic and age-old material that roofers have used for generations to create and maintain historical or listed buildings, it's pricey and it's prone to theft!
Lead alternatives are designed to look exactly like lead and are available in a range of thicknesses so roofers can still achieve the desired finish.

---
What is lead alternative made from? 
Alternatives to lead flashing are commonly made from a type of modified bitumen that's set around a metal grid to provide structural support. The grid inside the lead alternative allows for malleable yet rigid lead flashing whilst the bitumen provides the lead look and makes it easy to manipulate into position.
Each brand and type of lead alternative may be manufactured slightly differently so it's worth exploring all options to see what will work best for you. For example, some brands manufacture a self-adhesive lead alternative so there's no need for extra substances on-site, just fitting tools.
---
What are the benefits of lead alternatives?
As mentioned before, there is no scrap value to lead alternatives so would-be thieves won't even look twice at your roof, flashing or detailing. Lead flashing alternatives are also around 50% cheaper than real lead so the cost of the project automatically takes a huge dive. This is very attractive to churches, who may not be able to afford a genuine lead roof, and attractive to homeowners too who aren't particularly fussed about whether their detailing is real lead or not.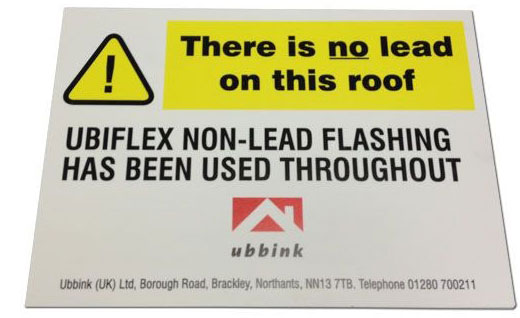 Alongside the price perks of alternatives to lead flashing comes the fact that lead alternatives are so much easier to install than genuine lead. Lead is known for its difficulty and leadworks are craftsmen with how they install and manipulate the lead.
There's no need for these specialist skills on-site and lead alternatives can be installed far quicker than lead, which reduces labour costs.
Light and easy to work with, lead alternatives can often just be cut with knives or scissors too which makes the job all that easier.
To summarise, an alternative to lead flashin is:
✅Cost-effective
✅Malleable
✅Can last up to 30 years
✅Safe to handle
✅Non-toxic
✅No contamination of run-off
✅No scrap value
✅Environmentally friendly
---
Which brands offer lead alternatives?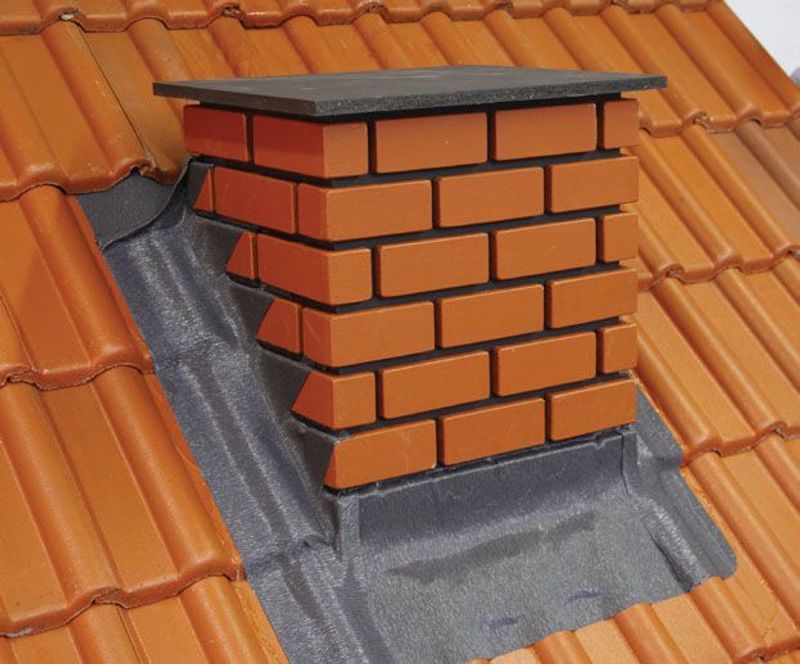 Many recognisable big-name brands offer alternatives to lead flashing, including Ubiflex from Ubbink, Icopal, Deks and Cromar. There are many options to choose from so it's worth doing some research. Below are some brief insights into each offering of a lead alternative that may help to decide which is best for a roofing project.
| | | | | |
| --- | --- | --- | --- | --- |
| Lead alternative  | Ex. VAT price from | Colours available | Thicknesses available | Self-adhesive?  |
| Ubiflex Lead Alternative | £28.33 | Black, grey, terracotta | 2.3mm, 3.5mm | No |
| FormFlash Lead Alternative | £57.20 | Grey | 4mm | No |
| Wakaflex Lead Alternative | £37.08 | Grey, anthracite, brown, red | 1.8mm | No |
| EasyFlash Lead Alternative | £28.54 | Black, grey, anthracite, brown, red | 1.2mm | Yes |
| Klober Easy-Form Plus Lead Alternative | £47.14 | Grey, anthracite, terracotta | 1.7mm | Yes |
| Deks Perform Lead Alternative | £31.10 | Black, grey, terracotta | 2.1mm | No |
| Easy Lead Self Adhesive Lead Alternative | £16.80 | Grey | 1.42mm, 3.2mm | Yes |
| Led-A-Flex Lead Alternative | £25.00 | Grey | 1.8mm | No |
| Lead Free Plus Lead Alternative | £18.45 | Grey | 3mm | No |
| Fast Flash Lead Alternative | £59.02 | Grey | 2.3mm | No |
Colour can really make or break the finish of a roofing project dependent on the requirement of the homeowner or the client. Colours like terracotta and red can help flashing blend in more seamlessly on a terracotta-tiled roof or around the reddy-brown brickwork of a chimney stack. Grey and black are more traditional colours that complement slate tiles and, most importantly in some projects, look more closely like genuine lead.
The thickness of the lead flashing matters depending on what the use is. Code 4 real lead flashing is 1.80mm thick so for code 4 applications it's best to go for similar thicknesses. For example, where you would normally use code 4 lead for window flashings you can use Easy Lead Self Adhesive Lead Alternative instead of lead flashing.
If it isn't clear which thickness alternative to led flashing you need, or which code relates to which thickness, use our guide 'Which lead code do I need for my project?'.

Was this guide useful?
Let us know if you liked the post. That's the only way we can improve.
Thanks for rating this article.
Mentioned in this project guide: