When working on a roofing project, there are several different types of roofing nail to choose from. Each type of roofing nail has a slightly different benefit. So each individual type works best when used with a specific type of roofing material. This means it is important to ensure you have the correct roofing nails for your latest roofing project.
But how do you know which roofing nails you need? Here at Roofing Superstore, we've put together a guide outlining the different types of roofing nails, and which materials they work best with, so read on.
If you have any further unanswered questions or want to know more about the best roofing nails for your project, don't hesitate to get in touch. Call the team on 01752 692760 or use the live chat in the bottom right-hand corner and we will be more than happy to help.

---
Table of contents:

Classic nails
Aluminium nails
Aluminium nails are popular due to their natural rust-resistant properties, which are often even better than manmade rust-resistant coatings that are applied to other roofing nails. Additionally, aluminium nails are commonly chosen due to their lightweight characteristics, which not only minimises the additional weight on the roof but also makes installation easier.
Aluminium nails are most commonly used to fix shingles and metal roof sheets securely in place. However, if working in a coastal or industrial area, aluminium nails would not be as suitable due to their reaction when exposed to salt or chemicals.

Copper nails
Copper nails are known for their durability and long lifespans, as well as their resistance to chemicals and rust-resistant properties. The copper nail is also much stronger than other nails such as aluminium nails. Therefore they can be used to secure roofing materials to harder wood with no issues.
Another benefit of copper is that it contains chemicals that are poisonous to moss and algae. When rainwater falls and passes over the copper nails, the chemicals are spread over the roof. As a result, it prevents moss and algae growth.
Copper nails are most commonly used to fix slates on pitched roofs, but can also be used to secure roofing tiles in place. Copper is also used to create slate straps, which are used on slate roofs to hold broken slates in place, either as a temporary fix or a more long term solution.
Stainless steel nails
Stainless steel nails can be used in an incredibly vast range of roofing applications and are manufactured from one of the most commonly used roofing materials available. The stainless steel nail is one of the most durable, long-lasting products on the market due to its resistance to chemicals salt and rust. This is one of the reasons why they are often seen as the more expensive option available in terms of roof nails.
Stainless steel nails can be used for installing cladding, fascia, securing tiles, slate and other roofing materials, and are particularly useful in industrial areas or coastal areas where chemicals and salt are present – where aluminium nails wouldn't be suitable.
Galvanised steel nails

Galvanised steel nails are steel nails that are coated with a zinc-based product, which means that a galvanised steel nail has all the characteristics of a steel nail, but with added benefits. The zinc coating adds extra protection and durability, as well as preventing rust from forming for many years. Additionally, the coating means that the nails are not as affected by thermal expansion and contraction as the season and temperatures change.
Galvanised nails can be used in a wide range of applications, but are most commonly used in the installation of asphalt shingles and felt on outbuildings, sheds and more – wherever adverse weather conditions are common, galvanised nails are a good choice.
---
Screw shank nails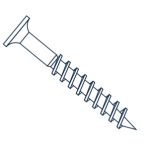 A screw shank nail is designed with a spiral thread, which helps the nail to twist in when it is driven into a material. Additionally, a screw shank nail features a diamond tip, which makes it easier to penetrate the roofing material.
A screw shank nail is most commonly used with hardwood and other dense materials – if used with a softer material or softwood, it can cause the material or wood to weaken and split.
Ring shank nails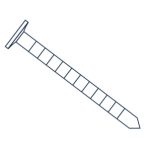 A ring shank nail has a series of circular threads which are used to create a secure grip. The rings sit within wood fibres, providing resistance which means that the ring shank nail is less easily pulled out of the material. This makes ring shank nails twice as resistant to being pulled out compared with smooth shank nails.
A ring shank nail should be used on softwood that isn't known to split, and should not be used on hardwood as it will damage the material if and when the ring shank nail is removed.
Smooth shank nails
Smooth shank nails are one of the most popular forms of roofing nail available. With no thread, the smooth shank nail relies on the friction between the wood fibres and the smooth shank for resistance and holding power. Smooth shank nails can be used in a wide range of general construction applications, and provide enough strength and holding power for most uses.
Clout nails
Clout nails are generally quite thick, short nails, with a larger flat head than regular nails. The larger flat heads help to ensure the material remains secure and in place. This means that clout nails are most commonly used to secure roofing felt, sheeting materials and other roofing materials to roof structures, without needing to be driven deep into the structure.
---
Do you still have an unanswered question or need anything clarifying about the best roof nails for your project? Call our team on 01752 692 760 or use the live chat in the bottom right-hand corner for more help and advice.
Was this guide useful?
Let us know if you liked the post. That's the only way we can improve.
Thanks for rating this article.
Mentioned in this project guide: