With an ample choice of roofing materials available, it can be hard to decide on the perfect finish for your project. But whether you're aiming for a traditional look or a more modern finish, you can guarantee there'll be a roof tile on the market to meet your needs.
Crafted from a number of materials, popular choices include slate, which gives an aesthetically pleasing finish, and concrete, which is known for its durability and minimal maintenance requirements. You'll also find an array of metal roof tiles on the market, which are often picked for their fire-resistant properties.
Whether it's a residential or commercial roof you're working on, you can pick a tile that not only looks good but serves a purpose too.
---
Table of contents:

Types of roof tiles
At Roofing Superstore, we're often asked:
How many types of roof tiles are there?
Quite a few, as it turns out.
Now, there are many different factors to consider when choosing from the many different types of roof tiles. But for an inexpensive covering that requires minimal maintenance two of the most popular options are clay and concrete. Meanwhile natural slate is very tasteful and metal roof tiles boast a long lifespan.
The key to choosing the best roof tiles for your project is to consider your budget and the overall finish you're looking to achieve. So what roof tiles are used in the UK?
You can find a more comprehensive overview of the different roof tile types popular in the UK below.
Clay roof tiles
Clay roof tiles are extremely popular and have been used for thousands of years. They are commonly used because they look good and provide strong protection from the elements. Having an absorption rate of only 6% means they take in less water than their concrete counterparts and are able to remain lightweight. While many manufacturers offer a 30-year guarantee on clay tiles, typically you can expect to get around 50-60 years of wear before you'll need to consider changing clay tiles.
Concrete roof tiles
Concrete roof tiles are domineering the UK market, having seen a surge in popularity over the past 50 years. They adapt well and their lower price point makes them attractive, especially to developers. You can expect the lifespan of a concrete tile to be anywhere in the region of 50-60 years, however, they are much heavier than clay tiles. Using concrete tiles will give you a low-maintenance finish. These tiles are fire resistant too which will reduce the damage a fire could do to your property.
Natural slate roof tiles
The biggest advantage of owning a slate roof is the authentic appearance it achieves, closely followed by its extreme durability, with experts believing a well-maintained slate roof can last up to 150 years. However, slate roof tiles are extremely heavy and the roof deck will need to be reinforced before they can be applied. It's unsurprising then that the installation of slate tiles is a costly process. But in return, you get an environmentally friendly roof that produces very little waste as used slate can often be repurposed.
Metal roof tiles
There are a variety of choices when it comes to metal roof tiles with options including zinc, aluminium, copper and galvanised steel. Crafted with longevity in mind, metal roof tiles tend to last 40-70 years and are extremely durable. They are both environmentally friendly and energy-efficient, however, they can be up to three times the price of alternative roofing materials and can be noisy in extreme weather conditions.
Lightweight roof tiles
Over the past few years, a trend for using lightweight roof tiles has developed. To be classed as lightweight a roof tile must be under 20kg. This weight is advantageous during the installation process and handy if you plan on doing the work yourself. It's also more environmentally friendly and the options for roof coverings are still plentiful, with choices including metro tiles, synthetic slate and lightweight tiles. The latter is a family-run firm developing ultra-lightweight, durable roof coverings that are laid in a similar way to traditional tiles.
Reclaimed roof tiles
Using reclaimed roof tiles is a great alternative to buying new ones. It's good for the environment and adds authenticity to renovation projects. If you're working on a heritage project or live in a conservation area, using reclaimed roof tiles is a great idea. Clay or slate tiles that have previously been well-maintained will almost certainly have a lot of life left in them, but stumbling blocks can appear if you can't source enough tiles to do the job. You should also be aware that reclaimed tiles need to be fitted in accordance with the current standards, regardless of how they were previously installed.
Interlocking roof tiles
Interlocking roof tiles mimic traditional concrete and clay styles, but their interlocking technology makes installation quicker and easier. The tiles are generally larger than standard tiles which makes them more eco-friendly and cheaper to install, while they remain versatile and can be used on roofs with a pitch as low as 10 degrees.
Double style Roman roof tiles
The traditional appearance of a Double Roman tile is its biggest selling point. While clay versions of the tile are difficult to source, most Double Roman tiles are now crafted from concrete and benefit from interlocking technology. This makes the installation process quicker and easier, reducing costs and ensuring swift completion. The colour and price of the tiles vary depending on which option you pick from the range.

Pantiles
Traditionally found in the Netherlands, pantiles have been around for over 500 years. While older pantiles were made of clay, most these days are made from concrete, though they can still be up to a third lighter than most tiles. They add real character to a building and are extremely durable, even in harsh weather conditions. With six main types of pantiles on the market, there's a range of colours and designs available in both traditional and interlocking styles.
---
Choosing the right tiles for your roof pitch
Roof pitches and angles can be quite a complex subject but, put simply, the roof pitch is how steep a roof is. There's no standard size for roof pitches, they vary depending on geographical location and era of construction, but you'll find some tiles are suited to higher pitches while others can be used on low-pitched roofs.
If you have a flat or low-pitch roof, you'll often find the installation process quicker and cheaper. It's also easier to access it for maintenance and repairs, but you might find cracks and crevices appear as a result of standing water and ice. A high-pitch roof will often stay drier and prevent a build-up of snow or ice, but it can be harder to maintain due to access difficulties.
Every roof tile has a minimum roof pitch to prevent water penetration, so it's worth noting this down to ensure the tile you want is compliant with your roof pitch.
How many roof tiles will I need?
Whether you're hiring an expert or planning to install the tiles yourself, you'll need to know how many to order to ensure your roof is completed in one go.
Although it's difficult to determine the exact amount, a good indication of the quantity needed can be achieved by calculating the total roof area and dividing it by tile size. More details on this calculation can be found in our handy guide.
To gauge how much budget you'll need to set aside for your desired tiles, you'll find the prices of our roof tiles by reading our 'how many roof tiles do I need?' guide.
---
How to tile a roof
Calculating the number of tiles you need is the very start of the roofing process. If you're a keen DIYer, make sure you source roofing nails, timber battens, underlay and sealant in order to complete the job.
To prepare the roof, remove any existing material and inspect the sheathing to make sure it's in good condition. The underlay can then be applied from the bottom upwards to ensure there's an overlap between each roll.
Once the underlay is complete, you need to install timber battens to provide a solid surface for the roof tiles to sit on. The tiles can then be evenly spread across the battens.
You can find more information about fitting timber battens and installing roof tiles in our more comprehensive guide to tiling a roof.
---
How to maintain a roof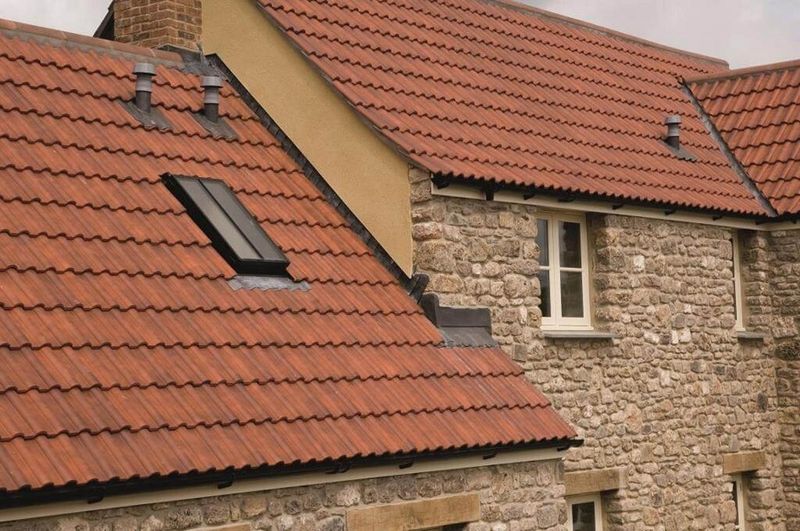 The best way to make sure you benefit from the maximum lifespan of your roof is to ensure it's well-maintained. A basic check from the ground twice a year will allow you to see if there are any problems with guttering, lifting tiles or loose flashings. Spring and autumn are usually the best times to look, as this gives you the opportunity to check your roof is in optimum condition before and after winter.
While roof tiles are largely classed as a low-maintenance roof covering, they will still need to be cleaned from time to time. Dirt, moss and algae can build up on roof tiles which not only looks unsightly but can put added pressure on the roof and also cause problems with guttering.
There are ways to prevent moss from growing, but regular gutter inspections and thorough roof cleaning* will promote the lifespan of your roof tiles. You'll also want to check your roof is safe from nesting birds. Installing an eaves protector and immediately replacing missing tiles are two key ways to deter wildlife from entering your roof space.
*Please always check the warranty on your chosen tiles before cleaning them. You may find the warranty is invalid when certain cleaning products or methods are used. For example, the Marley tiles warranty is invalid if a power washer is used to clean them.
---
If you have any questions or need some help with your order, you can open the live chat or give us a call to speak with one of our experts who will be happy to help.

Was this guide useful?
Let us know if you liked the post. That's the only way we can improve.
Thanks for rating this article.
Mentioned in this project guide: