VELUX are a leading supplier of pitched roof windows. With that in mind, these windows need specially-made loft blinds. Luckily with VELUX, there's no need to compromise on style. Find your perfect match from the same brand with our buyer's guide.
---
Table of contents
---
How to choose the perfect VELUX blind
When it comes to lighting your home, you can't beat a bit of sunlight. It's warming, natural and, unlike most things in life, totally free.
Although we all fight to get the most amount of rays into our homes, there are times when we want to keep them out again. It's not easy to watch a movie, take or nap or have a long morning lie-in when you're blinded by the sun.
Pitched roof windows bring their own challenges. They often allow in more light than the vertical kind. Typically because of the way they're angled and the direction they face.
To get the light and heat just right in your loft space, pitched roof window blinds are a must. They allow you to turn down the sun and then turn it back up again, whenever you like!
You don't have to compromise on style or finish for a specially-made attic blind. VELUX blinds are wonderfully versatile. Giving you complete control over the amount of light that enters a room. This can save energy, keep your home at a comfortable temperature and give you unobstructed views of the outside world.
Plus, because they come in such a wide variety of designs, there's bound to be one that fits in with the look and feel you want for your home.
Choosing loft blinds may be one of the last decisions you make, but being a finishing touch doesn't make it any less important. Should you go for Roman or Venetian? Manual or electric? Our guide to VELUX window blinds is here to help you choose.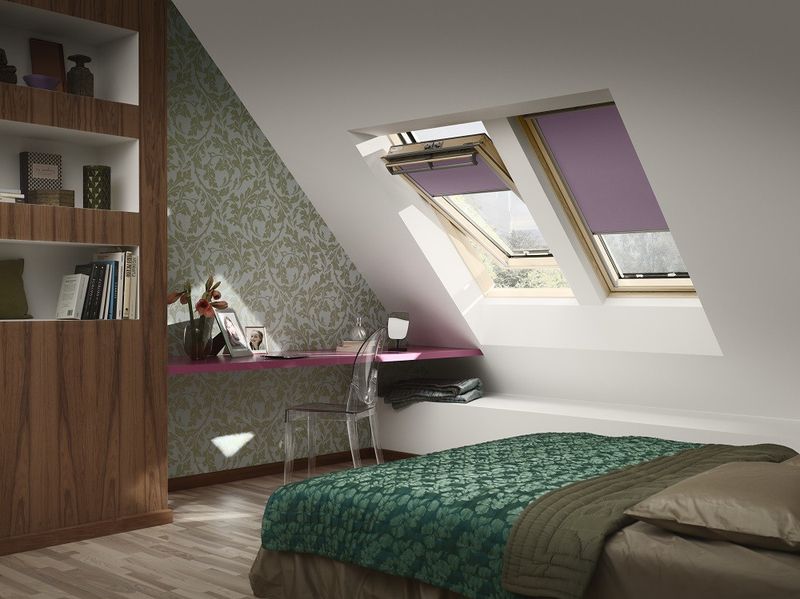 ---
What type of VELUX window blind do I need?
The right skylight blind can transform your loft space. Whether you use it as a living room, kitchen, master suite or child's bedroom, it'll make a real change.
Having said that, everything from your budget to your personal style will dictate the type of blind you end up with. Here are a few things to bear in mind before you start shopping.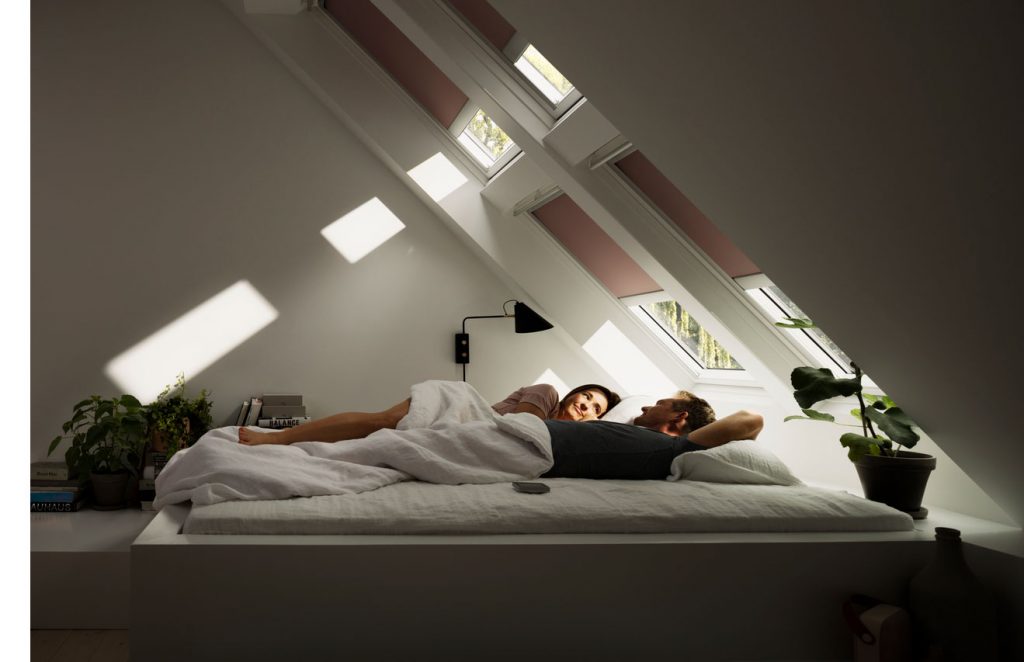 Decide your budget
Loft window blinds have come a long way in recent years. Gone are the days when your choice was limited to standard roller blinds in cream, white or grey.
VELUX blinds combine the latest technology with on-trend styling features. Such as electric VELUX blinds that open at the touch of a button, complete with bold colours or light-diffusing pleats. There's so much on offer!
However, while the sky's the limit when it comes to choice, as the number of features increases, so does the cost.
For example, an electric VELUX blind can be more than three times what you'd pay for its manual equivalent. It's best to decide which features you really need and which are just nice to have before you go shopping.
Look at your room
Your choice of skylight blind will also depend on the function of the room you're buying for. The clean lines of simple VELUX roller blinds are a great option for practical spaces such as home offices. They're also useful in kitchens and bathrooms thanks to their protective, durable coating.
For living rooms, you may want a softer, cosier feel. Fabric blinds such as VELUX Roman blinds look sumptuous and can turn your pitched roof windows into a stylish feature.
Need a new blind for your little one's bedroom? VELUX do a great range of children's blackout blinds featuring Disney and Star Wars characters to keep the look playful.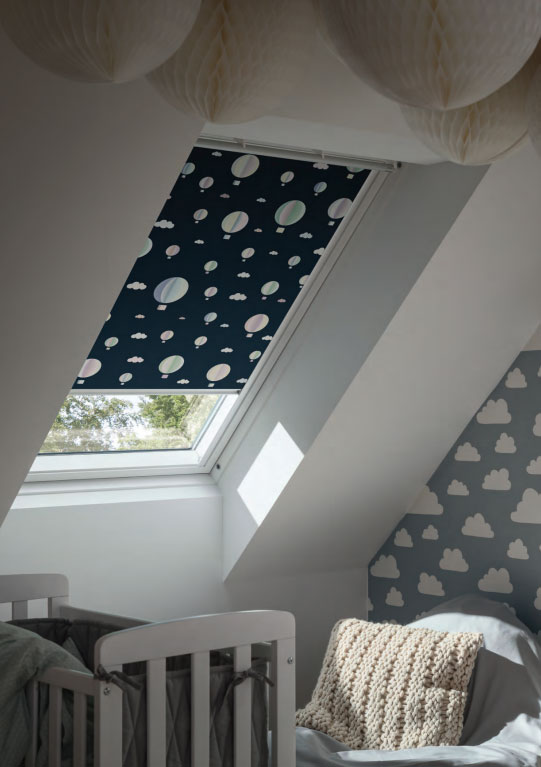 Decide on your style
While rooftop windows may not be in your direct eye line, how you dress them should still match your sense of style.
Go for a bold pop of colour for a dramatic look or tie the colours in a room together. You could also choose something more simple and neutral if you'd prefer your blind to blend in.
Roman blinds are great for a cosy, Scandinavian feel. Venetian blinds look more functional and work well if your style is more contemporary.

What different types of VELUX blinds are available?
There's a vast array of blinds available for every project. Whether you're updating your current loft blinds or putting the finishing touches to your new loft conversion, you've got a choice.
Look at the list below to help you decide which is right for you.
Standard roller blinds
Stylish, practical and budget-friendly, VELUX roller blinds are also incredibly popular. Probably because there's just so much choice!
They come in a huge selection of colours, prints and patterns. So there'll be one out there to suit your room. Even if they're not blackout, they will still soften the light coming through your roof window.
Go for manual roller blinds, or choose an electric version if they're in a hard-to-reach place.
Roller blinds are shown below on the left.
Blackout blinds
Save yourself that painfully early summer wake-up time by choosing VELUX blackout blinds. Ideal for bedrooms or guest rooms, you and your visitors will never find the dawn sun disturbing your sleep again.
Blackout blinds have a reflective back coating that lets you create total darkness at any time of the day. Remote-controlled blackout blinds can be an extra touch of luxury. Imagine letting the morning sun into the room without having to get out of bed!
The VELUX Integra Control Pad can even set your blinds to a timer so they open at the same time each day. How's that for a natural light alarm clock?
Blackout blinds are shown below on the right.

Energy blinds
VELUX energy-saving blinds work as well as blackouts when bringing complete darkness to a room. Better yet, these specially-made thermal blackout blinds have an extra trick up their sleeves. They can save you money on your heating bills!
VELUX energy blackout blinds can improve window insulation by up to 26%, so your room feels extra toasty. This is thanks to their heat-trapping honeycomb structure made of aluminium.
Energy blinds are below on the left.
Venetian blinds
Slatted blinds not only give your home a clean and contemporary look. They're also a practical choice for high-humidity areas such as kitchens and bathrooms.
Their aluminium horizontal slats are moisture-resistant. Plus, Venetian shutter blinds are famously easy to keep clean with just a quick wipe.
Having said that, the biggest plus is the amount of control you get when it comes to light and privacy. This is because the angle of the slats is so simple to adjust. You can also forget fiddly, hanging cords because VELUX Venetian blinds have a small, discrete slider instead.
Venetian blinds are below on the right.

Roman blinds
Thought soft, fabric blinds were just for vertical windows? VELUX Roman blinds can give you this decorative style in a way that fits your pitched roof window like a glove.
Ideal for living rooms, Roman blinds can soften the look of your window as well as mute the sunlight that enters the room. In a choice of beautiful fabrics, you can remove VELUX Roman blinds for easy cleaning. There are no hanging cords to worry about, either.
Roman blinds are below on the left.
Pleated blinds
Want a way to still let soft light in without plunging your room into total darkness? VELUX pleated blinds are the answer.
These concertina blinds keep out much of the heat and UV rays of the sun. Still letting in small amounts of daylight for a soft, muted look.
Available as top-down/bottom-up blinds, you can set them at different positions on the window for greater flexibility.
Pleated blinds are below on the right.

Duo blackout blinds
VELUX duo blackout blinds give you the best of both worlds. They combine the room-darkening powers of a blackout and the softness of a pleated blind, all in one handy system.
Want complete darkness so the kids can get a good night's sleep? Use the blackout blind to remove the light from the room.
Time for them to play? Use the pleated blind to soften the glare of the sunlight entering the room.
Duo blinds are shown below on the left.
Children's blinds
As any parent knows, the minute a ray of sunlight enters your little one's bedroom is the moment you kiss goodbye to that morning lie-in. Luckily, VELUX does a range of kids' blackout blinds to give you all a good night's sleep.
VELUX children's blinds are functional and come with all sorts of fun designs. Including colourful Disney characters right through to Star Wars blinds for older kids. These children's blinds can spark their imagination when it's time to play.
These blinds are shown below on the right.

---
How do I want my VELUX blinds to operate?
Once you've chosen your blinds, you'll need to decide how you want them to operate.
Manual VELUX blinds
Manual VELUX blinds are the most popular choice. A budget-friendly solution when your window's within reach.
Easy to use, VELUX manual blinds operate smoothly. You can also buy rod controls, rod extension pieces and rod adaptors if desired.
Some skylight blinds are in hard-to-reach places and will need to be operated remotely.
Electric VELUX blinds
VELUX electric blinds use the touch-screen VELUX Integra Control Pad. This lets you open and close your blinds at the touch of a button.
You can control the blind from anywhere in the room and even raise and lower them on a timer.
Check out our range of electric VELUX blinds. Find out why you should upgrade to VELUX electric windows and blinds.
Solar-powered VELUX blinds
A VELUX solar blind is also an option if you have a solar-powered roof window. Like the electric version, the solar blinds use the VELUX Integra Control Pad, but can also be operated manually if you wish.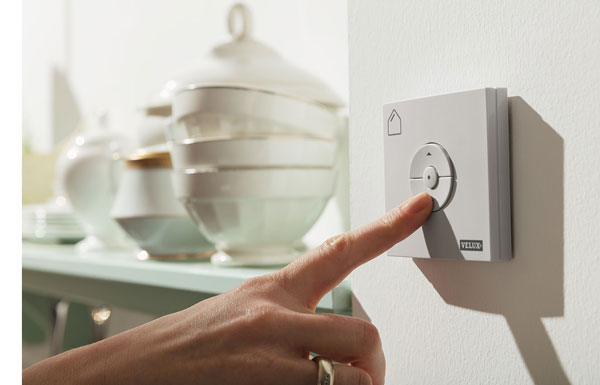 ---
How do I find out my VELUX window code?
VELUX creates blinds to fit a specific size of a VELUX window, so come with matching size codes. Every VELUX window made after 1968 has a plate in the right-hand corner of the frame.
Although invisible when the window's closed, once you open the sash you'll find it on the top edge. It gives you lots of information about the window, such as the type, size and production code.
For more information on VELUX window sizes, we've created this handy VELUX size guide.

If you already have a blind in mind, view our VELUX blind codes and sizes chart to ensure you find the right blind for your window.
---
How do I fit or replace VELUX blinds?
VELUX blinds are super easy to fit or replace. Even if your DIY skills aren't particularly something to shout about! Each VELUX blind can be installed in minutes, all thanks to the patented Pick&Click system.
VELUX windows come with their pre-fitted mounts so there's no drilling involved. VELUX blinds also fit their matching window exactly, so you don't need to do any cutting or trimming.
Just click the top of the blind into the brackets and mount the side rails, and your blind is good to go.
---
How do I clean my VELUX blinds?
Most VELUX blinds come pre-treated so that they repel the dirt. That said, there'll still be times when you'll want to give them a quick once-over.
Using the brush attachment of your vacuum cleaner can get rid of any dust. While dabbing (not rubbing) any marks with a damp, soft sponge is good for spot cleaning.
You can give Venetian blinds a wipe with a cloth and applying a thin film of detergent on the slats. This can stop static electricity from building up.
Finally, when you're cleaning your windows, spray cleaning fluid onto the cloth rather than the window. This will stop the product from splashing onto (and potentially damaging) your VELUX blinds.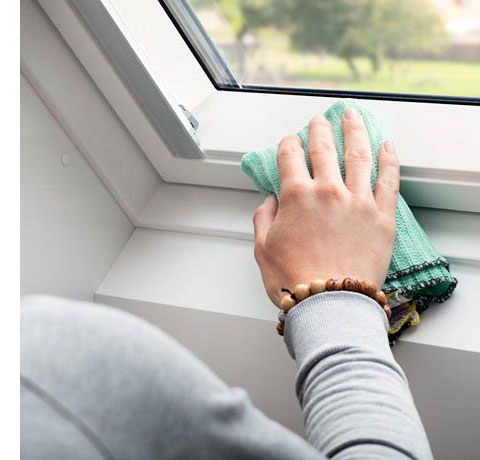 Was this guide useful?
Let us know if you liked the post. That's the only way we can improve.
Thanks for rating this article.
Mentioned in this project guide: