Windows for a pitched roof and windows for a flat roof are inherently different as they both need a set of features that fits the requirements of where they're being positioned. For example, flat roof windows need to be stronger than pitched roof windows because it's more common that items will fall on to a flat roof or that somebody will mistakenly walk across it. It's also important to remember that different opening mechanisms offer varying benefits.
Windows pivoting at the top means they need to be installed lower down so you're still able to reach the handle, whereas windows pivoting in the middle will mean they can be installed higher up a wall. There are a host of other considerations too as to what suits your needs perfectly. Contact our customer service team on 01752 692 760 for helpful advice.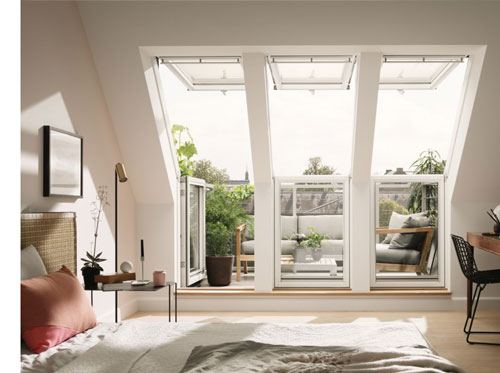 Below we explore the types of window available for pitched roofs and flat roofs.
---
Table of contents:
---
Types of Pitched Roof Windows
Pitched roof windows, whether they're manually operated or electrically operated, will always open. There are a couple of reasons for this including comfort and safety.  Pitched windows from almost all manufacturers (including well-known VELUX, FAKRO and RoofLITE) are available as manual opening, solar opening or electric opening. Manual opening is where the window is operated by hand, the solar opening is where the window is operated by the solar power it collects through the day, and the electric opening is where the window is plugged into the mains and then controlled by the electricity. Both electric and solar opening windows come with remote control. There are electric and solar blinds available too to fully automate your experience.
Centre-Pivot Windows
Centre-pivot windows hinge in the middle of the frame so that the window rotates in the centre. The opening handle is at the top of the window so the window swings outwards from the bottom, allowing furniture to be positioned beneath it. This method of opening means the window can be installed lower than usual in a pitched roof for easier access and for better views too when seated or standing.
Top-Hung Windows
Top-hung windows are similar looking to centre-pivot windows except top-hung windows have a hinge at the top. The hinge is at the top and the handle for opening is at the bottom so the window can swing wide open. This is perfect for loft conversions as you'll receive uninterrupted views and an extraordinary amount of daylight. With this type of pitched roof window, they're best for windows that are within easy reach and have no furniture in front of them that you're unable to safely and comfortably reach over.
Conservation Windows
'Conservation windows' is a generic term given to windows which are designed to fit seamlessly into conservation areas by meeting the requirements of older buildings. In a conservation area often any changes, including window replacements, have to be as close as possible as to what's already in place on both the original building and the rest of the area. Conservation windows are often black in colour and can be recessed into tile or slate to fit flush for as minimal an appearance as possible. Below are some examples of conservation windows.

Balcony Windows
Balcony windows are very cleverly designed to give the illusion of more space when they open. They form a Juliet balcony without needing planning permission, without building on the existing structure, and without the high cost. Simply install the windows like you would a regular window and watch the space be transformed from a run-of-the-mill room to life-changing. Balcony windows are absolutely stunning in all manner of rooms. Bedrooms, living rooms, and especially kitchens in loft conversions or even loft apartments can make the space even more usable. VELUX presents Cabrio and FAKRO offer up their own balcony window range too.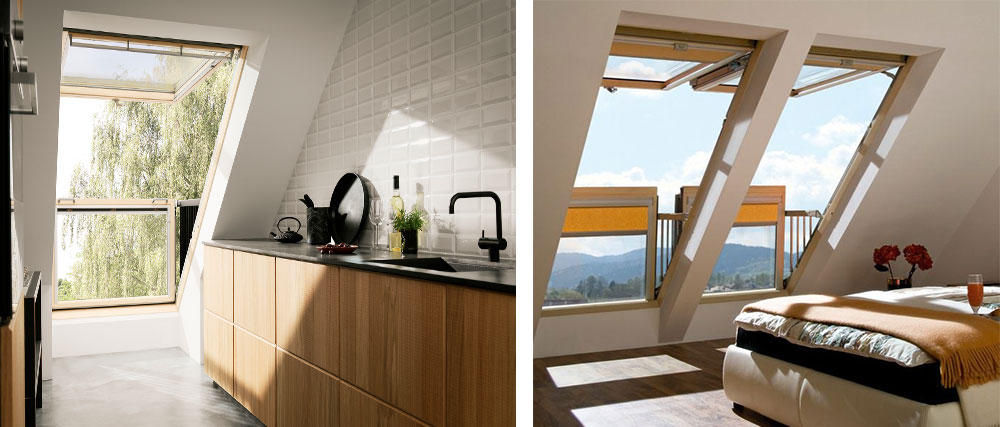 ---
Types of Flat Roof Window
Most types of flat roof window can be purchased in a style that opens or is fixed shut. Fixed flat roof windows are often installed in hard-to-reach locations or in places where would-be burglars would have easy access. For example, on a flat roof that's easily accessible by climbing on to it from another structure, it may be best to get a fixed flat roof window so there's no opening mechanism for somebody to break in to. Opening flat roof windows are ideal in flat roof extensions as they let light in and you can use them to ventilate too, especially good if the flat roof extension is on the side of or contains a kitchen.
Fixed and Opening Skylights and Rooflights
Fixed and opening flat roof windows are known as both skylights and rooflights, usually depending on the brand. Fixed skylights and rooflights are available as small single units all the way up to vast modular units that allow a unique and creative pattern of windows.

Seeing as fixed skylights and rooflights can be installed in areas like bathrooms and flat roof extensions, where people in higher floors could potentially look into the room, many manufacturers supply these types of flat roof windows with clear or opaque, privacy glazing. Manual opening and electric opening options are available for high ceilings or hard-to-reach areas.
Flat Roof Domes
Flat roof domes are similar to the skylights and rooflights mentioned above but they're a more commercial version suited to offices, schools and clinics. The glazing can be PVC instead of glass so they're often more hygienic for clinics, workshops and other sterile environments. Offices and schools often contain 'rooms within rooms' where natural daylight isn't possible.
Installing a flat roof dome in the ceiling can give that natural daylight which will lead to overall better health and happiness of those working or learning inside.
Walk-On Rooflights
Walk-on rooflights can be installed both internally and externally, from floor-to-floor or on the top floor where there is a flat roof. These rooflights make a fantastic talking point and they can convert any room into a bright, open space whilst retaining privacy with optional opaque glass. The anti-slip coating ensures the safety of those walking across it whilst slim, flush-fit, extremely strong glazing bars ensure the rooflight is architecturally sound. Simply installing one walk-on rooflight in your kitchen floor can create an amazing focal point, as well as illuminating a dingy or otherwise unused basement below. Each rooflight is triple glazed with nearly 30mm of glazing with a 20mm argon cavity inside too.

Roof Lanterns
A roof lantern is a large, design feature that sits atop large flat roofs. Looking almost like a conservatory roof, roof lanterns let in ample light to previously unlit and uninviting spaces. As shown in the pictures below roof lanterns are almost always in an elongated pyramid shape. To complement the facade of the existing structure roof lanterns come in a mixture of sizes and colours, as well as different colour tints in the glazing dependent on where the roof lantern will be installed. To ensure there's not too much glazing bar shadow and to let in maximum light, each manufacturer of roof lanterns boasts thin glazing bars that don't compromise on structural stability. Atlas Roof Lanterns and Kornice supply Roofing Superstore with roof lanterns.

---
For further advice and support, you can contact us using the live chat or giving us a call on 01752 692 760.
Was this guide useful?
Let us know if you liked the post. That's the only way we can improve.
Thanks for rating this article.
Mentioned in this project guide: