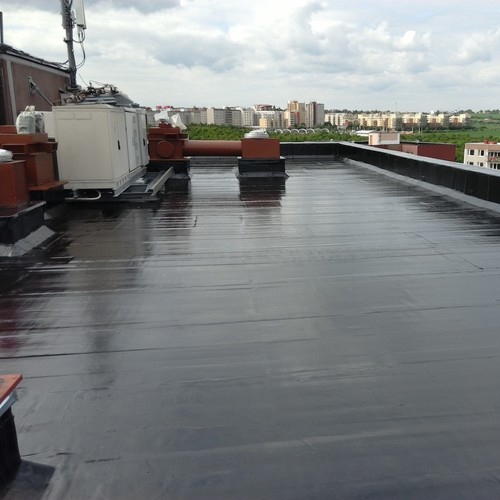 SWEPCO Guardian Seamless Roof Coating - 19 Litres
Additional Information
Product code:
SWEPCO/GGPP
Brand:

Swepco
Estimated delivery:
3-5 Days
£318.67 inc vat £265.56 ex vat
1+

£318.67
inc vat £265.56
ex vat
When the project calls for restoring a weathered industrial or commercial roof, no other coating provides more performance. New breakthrough polymer chemistry has yielded a coating that bonds tenaciously to most weathered roofs, provides unsurpassed weatherproofing reliability and stands up better to the destructive forces at work of today's roofs. Saves the old roof and avoids the high cost of roof tear-off and disposal. Requires a reflective coating.
Properties
Tin size: 19 litres.
Curing: will be ready to receive coatings within 1-2 hours.
Finish
This coating is black and will require a reflective coating to finish such as SWEPCO Aluminium Roof Shield.
Slate Granules can be installed to create non-slip walkways.
Curing
Will receive light foot traffic in 30 minutes and be totally cured within 72 hours.
Please note you will likely also require the aluminium roof shield and the guardian primer for use in conjunction with this product.
Application
Mix the 2 litre liquid activator with the 21 litre black base material ideally using a 400-600 rpm commercial drill with a mixing attachment and mix for a minimum of 5 minutes to ensure uniform dispersion of activator. Pour on surface and spread with notched squeegee with all strokes in one direction and as few strokes of squeegee as possible. 
Product Enquiry Form
---
SWEPCO Guardian Seamless Roof Coating - 19 Litres
Price Match Enquiry

---
SWEPCO Guardian Seamless Roof Coating - 19 Litres
We will beat any current genuine advertised price on this product. Please fill in the form below with a link to the product on the site you have found it cheaper on, or provide photographic evidence and one of our sales team will contact you regarding your order.
Please Note:
Product must be identical
Price match must include delivery charges made by the competitor
A price match claim made after an order has been made for a product will not apply
Price match applies to UK deliveries only
Price match excludes items sold on auction sites or by private sellers