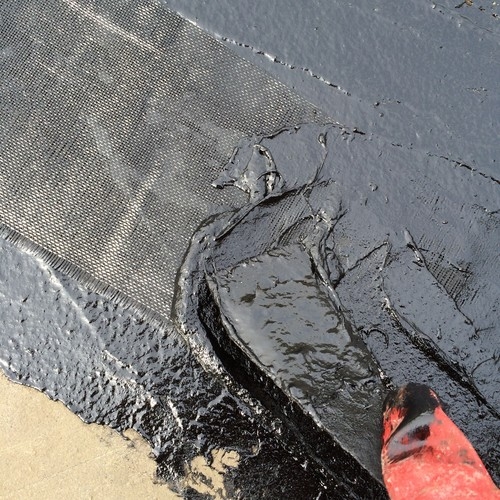 SWEPCO Heavy Duty Patching Fabric - 91cm x 46m
Additional Information
Product code:
SWEPCO/HDPF91
Brand:

Swepco
Estimated delivery:
3-5 Days
£158.68 inc vat £132.23 ex vat
1+

£158.68
inc vat £132.23
ex vat
A heavy duty glass fibre open weave reinfoircing mesh which has been coated with specially formaulted asphalt, can be used as an integral part of SWEPCO's flashing designs and is ideal for reinforcing patches & repairs where SWEPCO Heavy Duty patching Compound is being applied.

Heavy Duty Patching Fabric is a strong reinforcing material designed for use with Heavy Duty Patching Compound. It reinforces Heavy Duty Patching Compound repair work just as steel is used to reinforce concrete. Embedded between layers of Heavy Duty Patching Compound, it strengthens repairs to help prevent cracking and splitting.
Suitable for numerous applications including but not limited to Asphalt, Mineral Felt, Concrete, Asbestos, Metal and Granular Roofs.
Properties
Length: 46m.
Width: 91cm.
Application: by hand (use gloves) cut to size using a sharp blade or scissors.
Coverage: 46m rolls with 3 widths available - 15cm, 31cm & 91cm.
Please note you will likely also require to use this product in conjunction with the heavy duty patching compound.
Product Enquiry Form
---
SWEPCO Heavy Duty Patching Fabric - 91cm x 46m
Price Match Enquiry

---
SWEPCO Heavy Duty Patching Fabric - 91cm x 46m
We will beat any current genuine advertised price on this product. Please fill in the form below with a link to the product on the site you have found it cheaper on, or provide photographic evidence and one of our sales team will contact you regarding your order.
Please Note:
Product must be identical
Price match must include delivery charges made by the competitor
A price match claim made after an order has been made for a product will not apply
Price match applies to UK deliveries only
Price match excludes items sold on auction sites or by private sellers