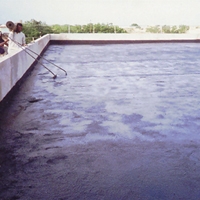 SWEPCO Concrete Primer - 19 Litres
Additional Information
Product code:
SWEPCO/CP
Brand:

Swepco
Estimated delivery:
3-5 Days
£109.33 inc vat £91.11 ex vat
1+

£109.33
inc vat £91.11
ex vat
A black liquid asphalt primer for priming bare concrete roof decks and asbestos cement roofs prior to the installation of a SWEPCO Roof System. It provides solid bonding and uplift resistance for the new roof system by absorbing loose dust and scale on the surface. It also helps prevent blistering of the completed roof by sealing the pores of concrete decks.
Properties
Tin size: 19 litres.
Finish: black.
Suitable for: concrete, asbestos, asphalt, mineral felt, metal & granular roofs.
Curing: apply to dry surfaces and allow to cure for approximately 24 hours.
Application
Apply straight from the container with standard roofing brushes, soft bristled roofing brushes, paint rollers or airless spray equipment. Requires no heating. mixing or thinning.
Product Enquiry Form
---
SWEPCO Concrete Primer - 19 Litres
Price Match Enquiry

---
SWEPCO Concrete Primer - 19 Litres
We will beat any current genuine advertised price on this product. Please fill in the form below with a link to the product on the site you have found it cheaper on, or provide photographic evidence and one of our sales team will contact you regarding your order.
Please Note:
Product must be identical
Price match must include delivery charges made by the competitor
A price match claim made after an order has been made for a product will not apply
Price match applies to UK deliveries only
Price match excludes items sold on auction sites or by private sellers