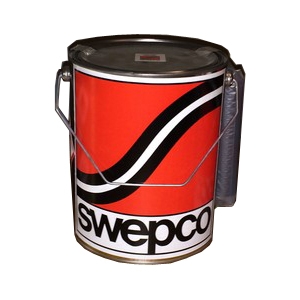 SWEPCO Heavy Duty Patching Compound - 25 Litres
Additional Information
Product code:
SWEPCO/HDPC
Brand:

Swepco
Estimated delivery:
3-5 Days
£184.01 inc vat £153.34 ex vat
1+

£184.01
inc vat £153.34
ex vat

20+

£107.54
inc vat £89.62
ex vat
A thick, black, solvent base asphalt waterproofing compound used for stopping leaks instantly, patching and repairing existing roof coverings, blisters, flashings and for patching and sealing around roof projections. Bonds to wet surfaces for emergency repairs. Use with Heavy Duty Patching Fabric for extra reinforcement in high stress areas. Designed for both maintenance and new roof applications.
Handy sized pails of Heavy Duty waterproofing compound that can be applied directly to cracked or damaged roof areas with immediate permanent results.
Tins delivered may be in plain format without livery. This product may require Heavy Duty patching Fabric which is sold seperately.
Apply straight from the tin to the required area. Application of Heavy Duty Patching Compound & Heavy Duty Patching Fabric can be used as a stand alone item to repair and is also the first stage prior to the application of most SWEPCO Roof coating systems.
Properties
Tin size: 25 litres.
Finish: black.
Suitable for: asphalt, mineral felt, concrete, metal, granual roofs & numerous other repair situations.
Application: trowel or by hand (using gloves).
Coverage: to be used in conjunction with the patching fabric - use as required.
Curing: can be applied in almost any conditions, but dry is always best for optimal results. Curing time depends on climate.
Please note you will likely also require to use this product in conjunction with the heavy duty patching fabric to reinforce split seams and small holes.
Product Enquiry Form
---
SWEPCO Heavy Duty Patching Compound - 25 Litres
Price Match Enquiry

---
SWEPCO Heavy Duty Patching Compound - 25 Litres
We will beat any current genuine advertised price on this product. Please fill in the form below with a link to the product on the site you have found it cheaper on, or provide photographic evidence and one of our sales team will contact you regarding your order.
Please Note:
Product must be identical
Price match must include delivery charges made by the competitor
A price match claim made after an order has been made for a product will not apply
Price match applies to UK deliveries only
Price match excludes items sold on auction sites or by private sellers