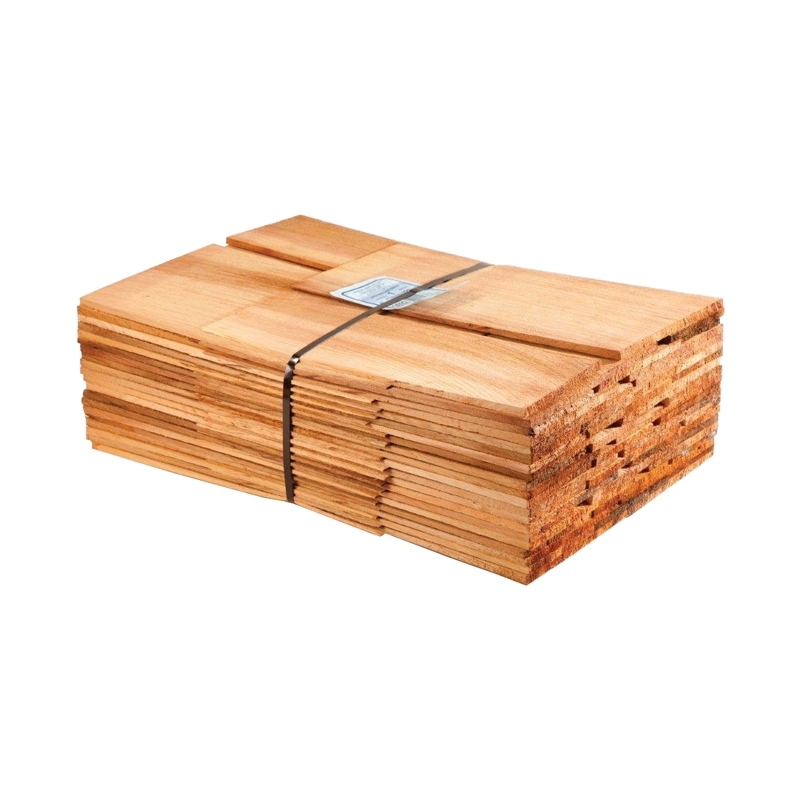 Western Red Cedar Wood Shingles 16'' No.1 Blue Label - 2.32m2 Bundle
Additional Information
Product code:
BBBL
Brand:

Roofing Superstore
Estimated delivery:
1-2 Days
£71.26 inc vat £59.38 ex vat
1+

£71.26
inc vat £59.38
ex vat
Western Red Cedar Shingles & Shakes are a truly renewable and sustainable roofing and cladding material; with one of the lowest carbon footprints of any widely used building product. They are light to transport yet durable and offer a high degree of thermal insulation.

Shingles and Shakes have been used for a wide range of structures from simple garden gazebos to domestic dwellings to major theme parks. Shingles and Shakes perform the same functions but are manufactured in different ways. A Shingle is produced by sawing a block of wood on both sides, giving a relatively smooth face and back. A Shake is hand split from a block of cedar along the natural grain of the wood and then resawn to produce one smooth surface.

They can be used for both roofing and cladding. Cedar Shingles can be fixed to pitches as low as 14 degrees.
Min 70% PEFC Certified
Properties
Length: 400mm.
Width: random widths between 75mm and 350mm.
Thickness: 10mm at the butt, tapering.
Profile: sawn both sides, rectangular.
Bundle: approx. 120 pieces.
Colour: natural, varying reddish brown to pale yellow.
Grade: blue label.
Minimum pitch : 14°.
Maximum pitch : 90°.
Minimum side lap : 38mm.
Treatment : untreated shingles - clean.
Fixings : silicone bronze nails.
Life expectancy : 20 to 40 years in roofing applications.
40 to 60 years in cladding applications.
Fixings
For maximum life, fixing should be made with 2 no. 31mm x 1.8mm silicon bronze annular ring nails per shingle. As a guide approximately 1kg of nails are required to fix 6 bundles of shingles.

Hip and Ridge Capping require a longer 45mm x 2.65mm Silicon Bronze Nails. Each Hip and Ridge requires 4 nails. 144 nails are required for 1 bundle of Hips and Ridges. 1kg is required for 3 bundles of Hip and Ridge Cappings.
Product Enquiry Form
---
Western Red Cedar Wood Shingles 16'' No.1 Blue Label - 2.32m2 Bundle
Price Match Enquiry

---
Western Red Cedar Wood Shingles 16'' No.1 Blue Label - 2.32m2 Bundle
We will beat any current genuine advertised price on this product. Please fill in the form below with a link to the product on the site you have found it cheaper on, or provide photographic evidence and one of our sales team will contact you regarding your order.
Please Note:
Product must be identical
Price match must include delivery charges made by the competitor
A price match claim made after an order has been made for a product will not apply
Price match applies to UK deliveries only
Price match excludes items sold on auction sites or by private sellers